German Chocolate Cake Balls are a tasty German chocolate dessert that will win over a crowd. Whether you are making these for a birthday bash, holiday event, or a weekend treat. I have an easy German chocolate cake pops recipe that you all will love.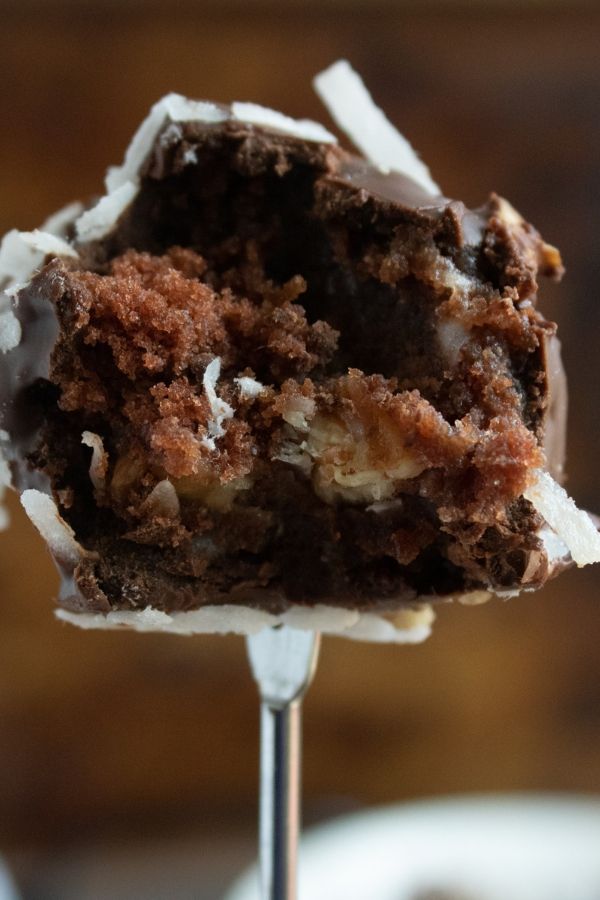 I am a huge fan of the flavors of German Chocolate! Coconut flavors, nuts, creamy base, and tender and light cake. Whether you call these cake balls or German chocolate truffles, you will have a dessert that gets rave reviews.
German Chocolate Cake Balls
The coconut pecan frosting on these cake balls really transforms these. They taste like a bakery-style cake ball, that people would pay good money for. The best part of all is they are EASY! While they look fancy, they are simple to prepare.

Is It Easy To Make Coconut Pecan Frosting
Yes, the German chocolate frosting is easy. You do cook coconut pecan frosting on the stove to give it that creamy authentic German chocolate frosting. Then you mix the cake and frosting together to form that cake ball consistency you need to form the balls.
What Type of Chocolate Do You Use To Dip Cake Pops In
For some recipes, you will see almond bark used. For this recipe, I went ahead and did semi-sweet chocolate. You can use whatever you prefer, I just find the semi-sweet chocolate really added a nice flavor to the pops.
How Many Cake Balls Does This Recipe Make
Depending on how large or small you make your cake balls will depend. I was able to get 48 cake balls in this recipe. I layed them out on wax paper or you can use parchment paper after you dip them.
How Do You Get Even Looking Cake Pops
I use a cookie scoop. I find this is the best way to get that consistency in size. You can buy all different sizes of cookie scoops to fit your needs.
How Early Can You Make Cake Pops
You can make cake pops up to 2 days in advance. These are best served fresh, but if you need to prep ahead of time, go ahead and make them up to two days in advance. Make sure they are in an airtight container
so they don't get air to them to dry them out.
How Do You Store Cake Pops
Simply store your cake pops in an airtight container in the fridge for up to 2 weeks. Because of the frosting used, you won't want to leave these out on the counter. The sooner you eat the fresher they will taste of course.
Best Way To Freeze Cake Pops
You can place cake pops in a freezer friendly freezer bag and store in the freezer up to 1-3 months. Place in the fridge to thaw, or on the counter and serve.
Why Are My Cake Pops Crumbling
You want to ensure you are not working with cold cake pop mixture. If so when you coat them in the chocolate they will expand as they warm up. Another thing to watch is to ensure your mixture of the cake and frosting forms nicely. If it doesn't seem to hold together you will need to add more frosting to the mixture. Or else they will crumble.
Craving More Sweet Dessert Recipes
Peach Tart | Simple peach tart with a sugar cookie crust. You could easily swap out the fruit on top to fit the season of fruit you are in.
S'mores Brownies | Dress up brownies in a tasty way. Marshmallows, graham crackers, chocolate chips and more come together for one gooey dessert.
Chocolate Peanut Butter Fudge | This layered fudge is velvety smooth. A perfect dessert to whip up around the holidays.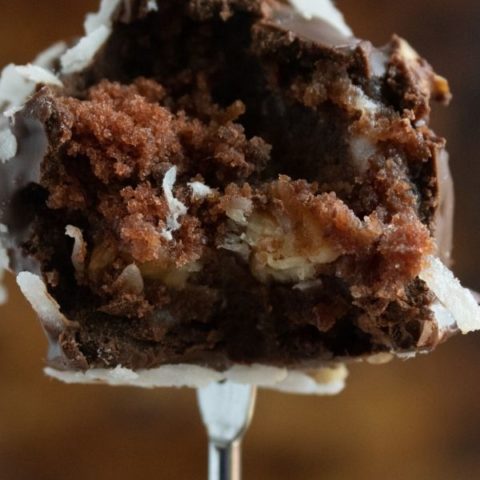 German Chocolate Cake Balls Recipe
German Chocolate Cake Balls are easy to make and so delicious. Whether for a party or holiday gathering, these cake pops are a treat.
Ingredients
Cake
• 1 box cake mix prepared to recipe instructions OR 1 recipe homemade German Chocolate Cake
Coconut-Pecan Frosting
• 14 ounce can sweetened condensed milk
• ½ cup unsalted butter, melted
• 3 egg yolks
• 1 ½ cup coconut
• 1 cup pecans, chopped
• 2 teaspoons vanilla
Truffles
• 4 cup semi-sweet chocolate chips, melted
• ½ tablespoon of Crisco
• 1 cup coconut
• 1 cup pecans, chopped
Instructions
Cake:
Preheat oven to 350 degrees.

Prepare and bake cake according to package instructions.

Let cool and then crumble cake up. Set aside.

Frosting:

In a saucepan, mix melted butter, sweetened condensed milk, and egg yolks. Stir continuously over medium heat until it thickens, about
10 minutes.

Remove from stovetop and cool for at least 30 minutes, stirring now and
then.

Cake Truffles

In a large mixing bowl, combine crumbled cake and frosting. Stir to
combine.


Mold 1-inch balls out of the cake and frosting mixture.

Line a small baking sheet or another freezer-safe platter with parchment paper. Places balls on the baking sheet and freeze for about 30-minutes to an hour.

When the cake balls are ready to remove from the freezer, melt chocolate in the microwave with Crisco in a glass bowl, starting with one minute and then stirring. Continue to melt chocolate in 30-second intervals, followed by stirring, until the chocolate has melted.

Place coconut and pecans in bowls to have ready to sprinkle on the chocolate-coated cake balls.

Using a fondue stick or something similar, pick up each ball and dip into the chocolate, setting back onto parchment paper. Sprinkle with a
tiny amount of coconut and pecans, before the chocolate hardens.

When all cake balls have been dipped in chocolate, drizzle a small amount of melted caramel over each cake ball truffle.


Allow to chocolate to harden before serving, placing the truffles in the
refrigerator for 30 minutes to speed up the process, if desired.
Recommended Products
As an Amazon Associate and member of other affiliate programs, I earn from qualifying purchases.
Nutrition Information:
Yield:

48
Serving Size:

1
Amount Per Serving:
Calories:

244
Total Fat:

14g
Saturated Fat:

7g
Trans Fat:

0g
Unsaturated Fat:

6g
Cholesterol:

23mg
Sodium:

122mg
Carbohydrates:

31g
Fiber:

2g
Sugar:

23g
Protein:

3g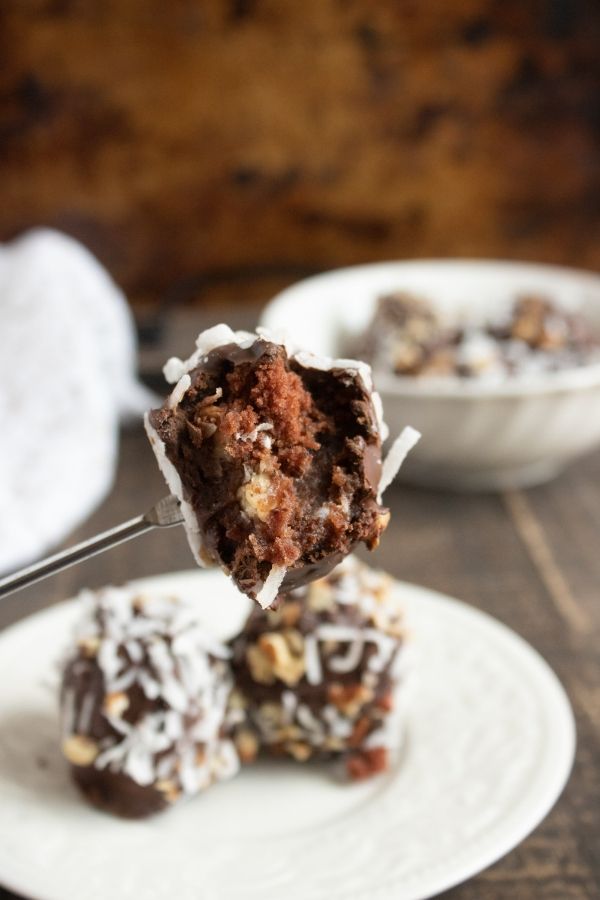 What Type of Coconut Do You Use For German Chocolate Cake Pops
I Used unsweetened coconut. I find the sweetened is too sweet for my liking. The unsweetened offers the perfect texture and coconut flavor these to cake balls.
Can I Use Candy Melts for Cake Balls
If you didn't have chips to meltdown you could use brown candy melts to dip your cake balls in. Easy german desserts that you can adapt to your needs!
Can I Use Homemade Chocolate Cake
I used a box chocolate cake mix, but if you have a homemade cake mix you would rather whip up, go for it! I love homemade chocolate cake, but these cake pops are so full of flavor I felt like I could cut a corner and no one would notice!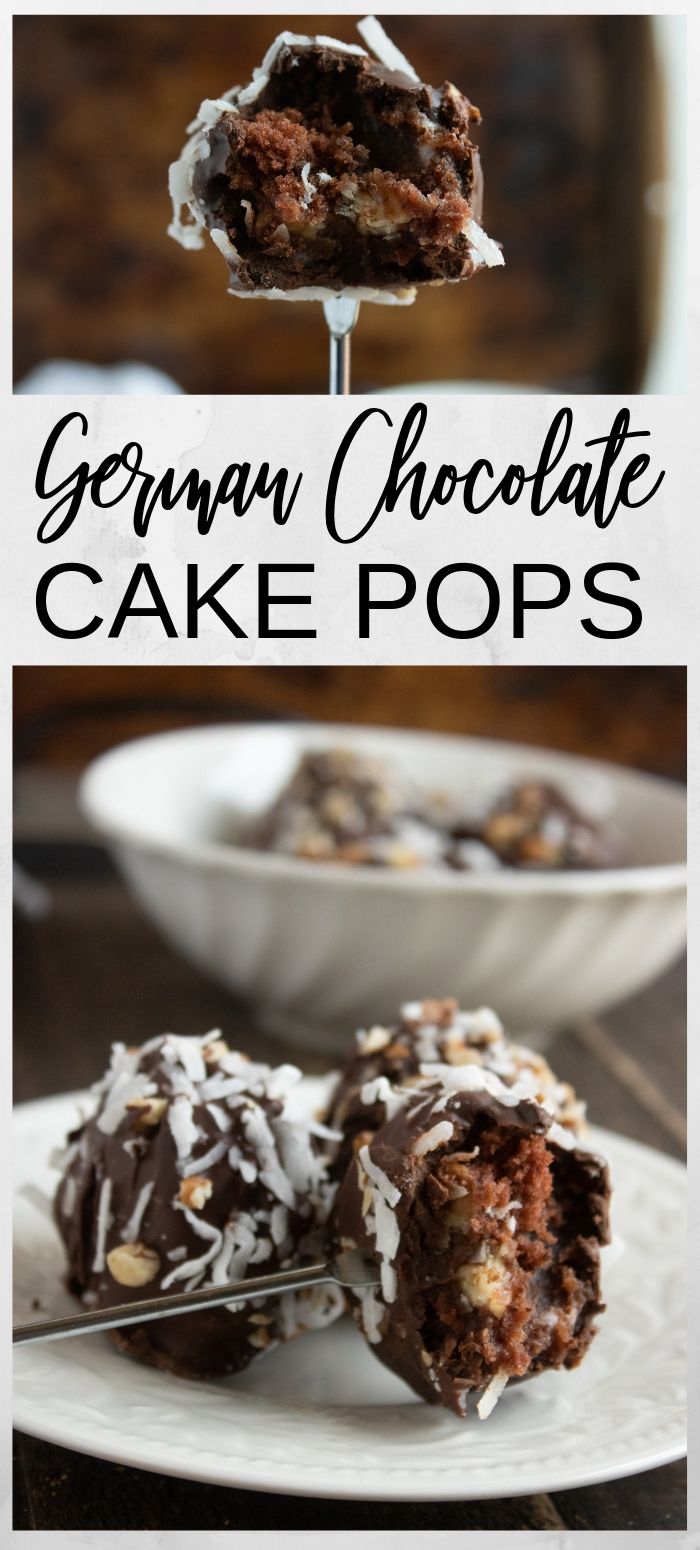 Have you ever made a German Chocolate Cake Balls Recipe Before?