A crab rangoon dip with homemade wonton chips for dipping. The perfect hot crab dip to serve up guests or a treat to break up the work week. Just 10 minute bake time and your ready to serve.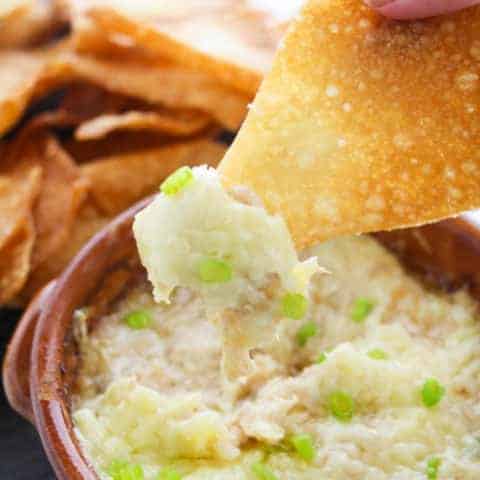 Nothing I love more than a good hot dip, and this crab rangoon dip is going to hit the spot. Hot crab dip with cream cheese, cheddar cheese, loads of crab meat, and baked to perfection, with a side of wonton chips.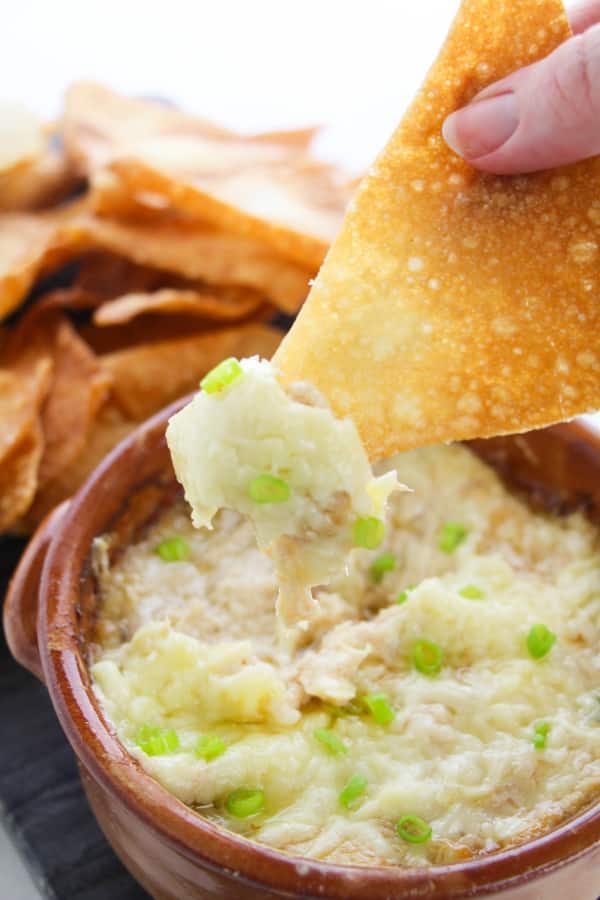 A take-out favorite that now can be made in the comfort of your own home. Pair with this Caprese dip, for the ultimate dip selection.
This truly is such an easy crab dip with cream cheese for that ultimate silky smooth texture. Just 10 minutes is all this dip takes to bake up to a cheesy hot crab dip. You get that crab rangoon taste without all the hassle!
Try my Steak Oscar for that surf and turf dinner as well, if you are looking for more crab recipes.
Why You Will Love This Recipe
Simple
Easy
10-minute dip
Warm and cheese
Loaded with Crab
Party Appetizer
Baked Perfection In A Bowl
Trust me you guys, if you love crab and cheese you will love this baked crab rangoon dip.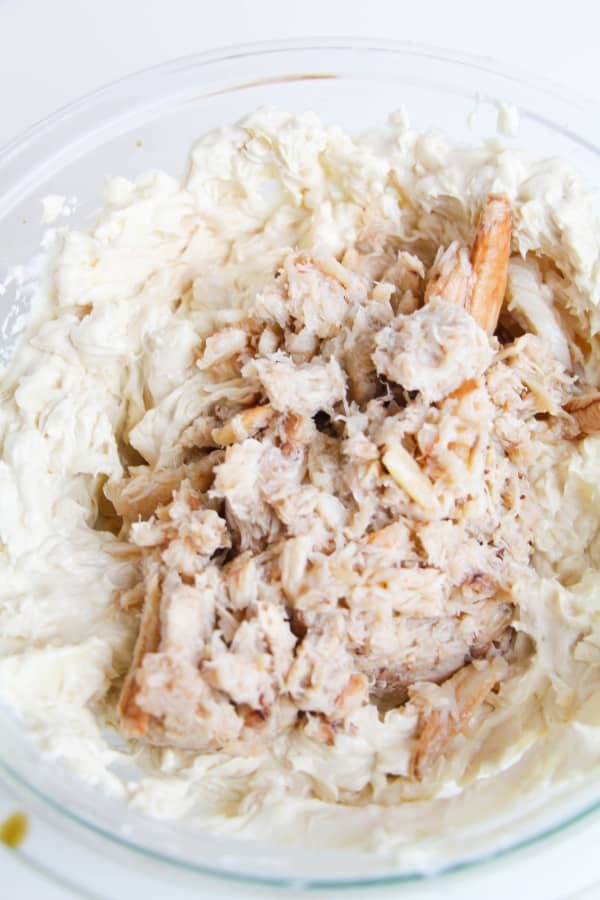 Ingredients for Crab Rangoon Dip
Cream Cheese
Greek Yogurt or Sour Cream
Shredded Cheese
Mayonnaise
Lump Crab Meat
Soy Sauce
Worcestershire Sauce
Sesame Oil
Dried Garlic
Parmesan
Hot Sauce
Oil + Wonton Wrappers for Chips
How To Make Crab Rangoon Dip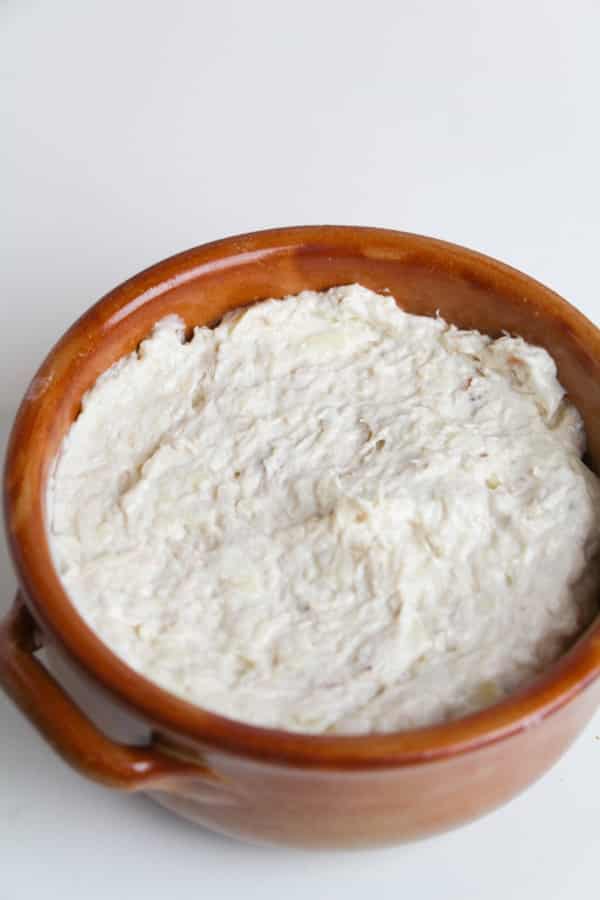 Step 1: First, to make this warm crab dip you are going to add in your cream cheese, yogurt, hot sauce, dried garlic, shredded cheese, mayo, soy sauce, Worcestershire, garlic, and sesame oil together.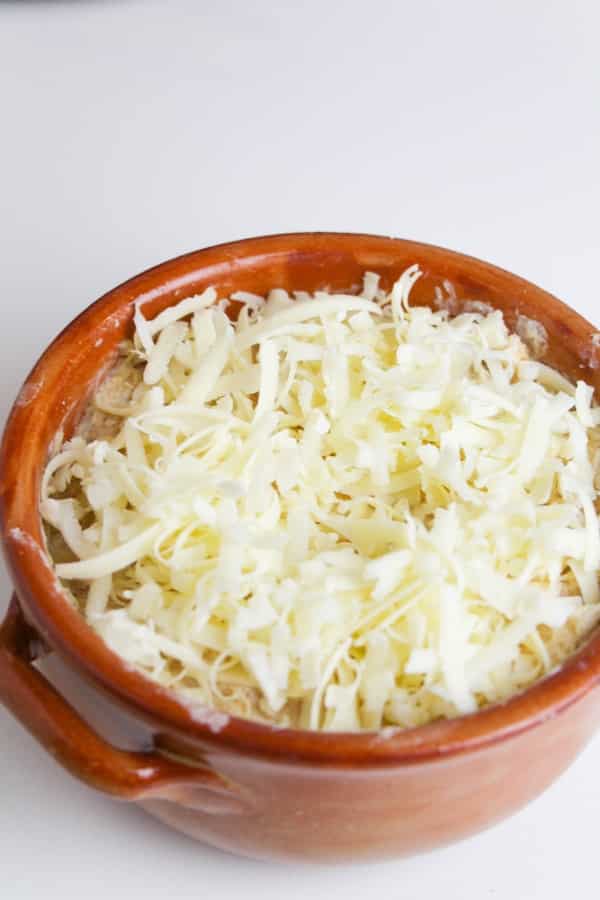 Step 2: Secondly, once the crab dip is mixed go ahead and fold in the lump crab meat. Pour the mixture into the prepared dish. Top with remaining cheese and bake in the oven.

Step 3: Lastly, while the dip is in the oven baking, you can work on your wonton chips. You can deep fry them or do air fryer wonton chips. I share directions for both in the recipe card.
What to Serve With Dip
This hot crab dip has homemade wonton chips that are a breeze to make. Or if you want, skip the chips and serve up salty tortilla chips, crackers, baguettes, or even celery sticks for a lighter option.
Now, this might not be diet friendly, it is totally worth giving yourself a pass for the day, or a cheat day if you want to call it that. Serve up this crab dip and watch happiness spread as each person takes their first bites.
Storage Of Dip
My recipe is a warm dip recipe, so it is best to be served fresh from the oven. If you have leftovers you can store this crab dip in the fridge for 1-3 days.
Eat the leftover dip cold or warm it up for a warm dip! I think you will enjoy this is easy crab rangoon dip that packs so much flavor!
Recipe FAQs
More Delicious Appetizers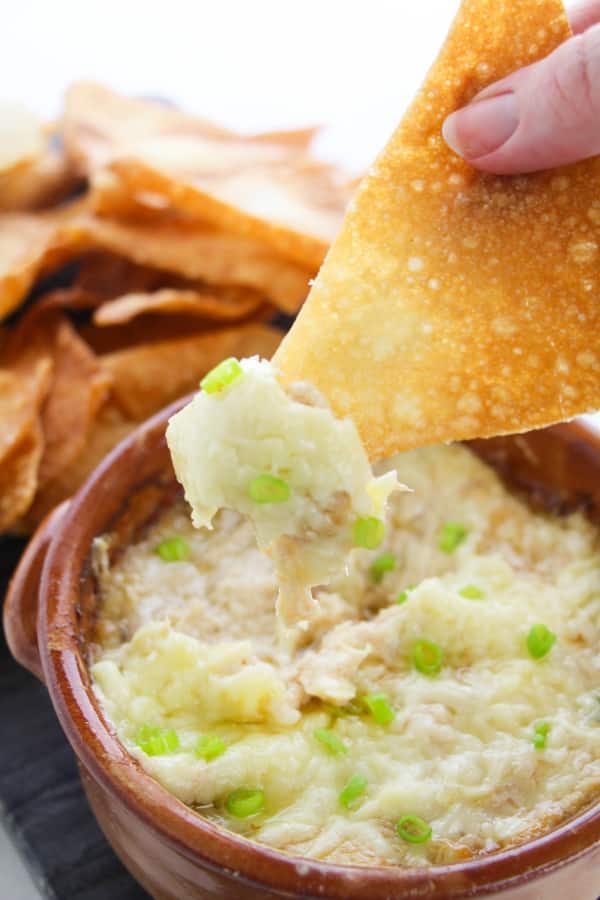 Crab Rangoon Dip with Wonton Chips (Hot Crab Dip!)
Servings 12 servings
A crab rangoon dip with homemade wonton chips for dipping. The perfect hot crab dip to serve up guests or a treat to break up the work week. Just 10 minute bake time and your ready to serve.
Ingredients
4 oz cream cheese softened
1/4 cup greek yogurt
3 Tablespoons mayonnaise
8 oz crab meat or as desired
1 cup cheddar cheese
1/2 teaspoon Worcestershire sauce
1/2 teaspoon soy sauce
1 1/2 teaspoons sesame oil or to taste
1 teaspoon dehydrated garlic to taste
- Salt or 1/4 cup parmesan cheese your preference (do not add both)
Hot sauce to taste
Green onions optional garnish
3 cups oil of choice peanut or vegetable
1 package wonton wrappers
Instructions
Preheat oven to 350F. Then grease your baking dish and set it aside.

Then combine your Greek yogurt, cream cheese, mayo, and 1/2 cup of cheese, soy sauce, sesame oil, Worcestershire sauce, garlic, and your hot sauce. Feel free to taste and adjust seasoning to your liking. 

Next fold in your crab meat. Once well mixed pour the dip into the oven-safe dish and top with your leftover shredded cheese.

Bake for 10 minutes, or until your cheese is slightly golden brown. 

While the dip is baking, start working on your wonton chips. 

Heat oil in a deep fryer or a heavy pot (like a dutch oven). Or opt for the air fryer method below.

Slice wonton wrappers into triangles (Cut in half diagonally) then fry a few at a time in the hot oil. Make sure they have room and flip after 30 seconds on one side. 

Place cooked wonton chips on a plate that is lined with a paper towel. 

Pull hot crab dip from oven, garnish with sliced green onions and serve with wonton chips.
Notes
Air Fryer Wontons | Prep your wontons as directed and spritz with oil. Place in your air fryer, in a single layer. Heat at 350 degrees for 2-3 minutes, and then flip and cook until they are evenly browned. Lump crab meat is best but you can use canned crab and other styles for this recipe. To Cook Crab Dip In Air Fryer | If you want to cook this crab rangoon dip in the air fryer, use an oven-safe pan. Place in the air fryer and cook at 375 degrees for 5-8 minutes or until it is warmed through and the top cheese is melted.
Nutrition
Calories: 628kcalCarbohydrates: 2gProtein: 8gFat: 67gSaturated Fat: 8gPolyunsaturated Fat: 55gTrans Fat: 1gCholesterol: 42mgSodium: 309mgSugar: 1g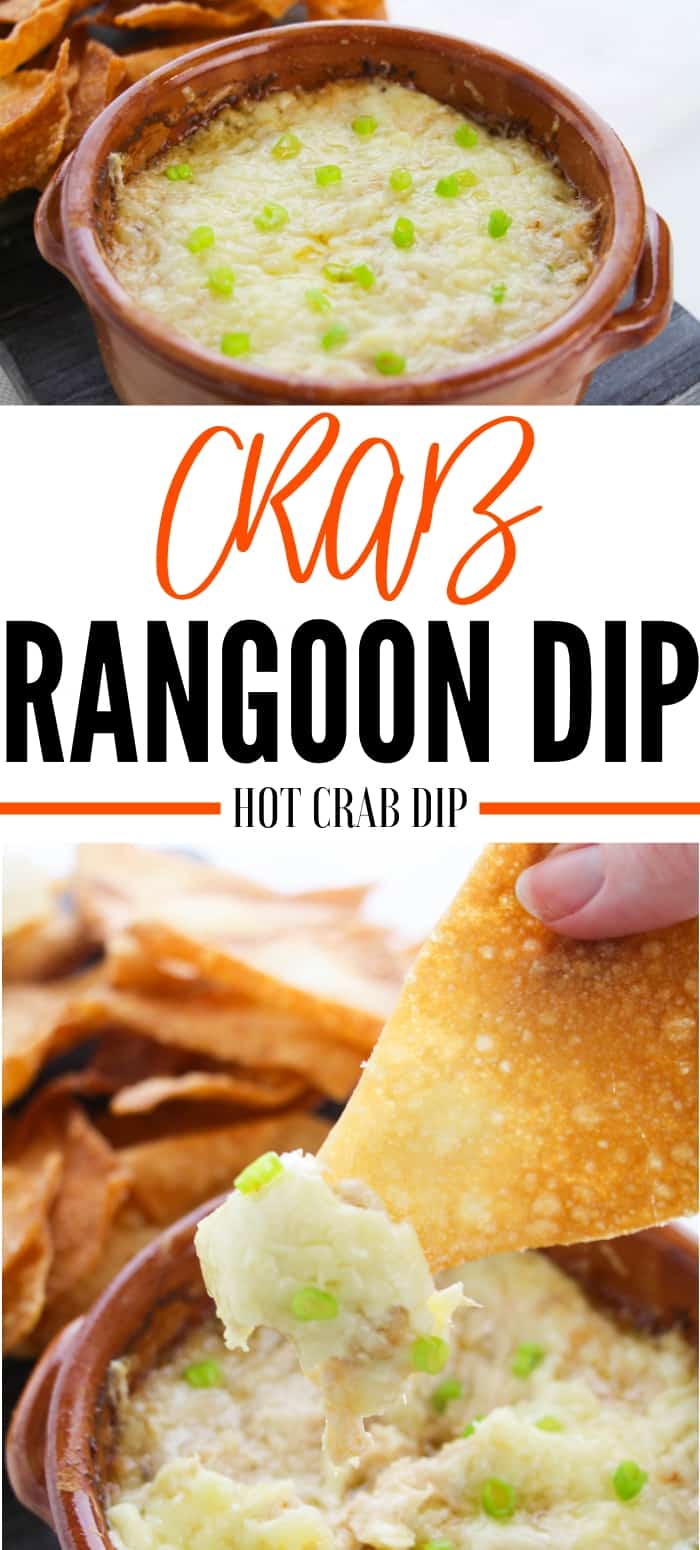 As you can see this hot crab dip recipes is incredibly easy and fast to make. In no time you can have one incredible dip to serve up.
In conclusion, give this hot dip a try today if you are a seafood fan!
Reader Interactions